Viking Electronics DVA-2WA Announcer Digital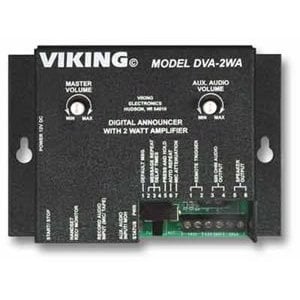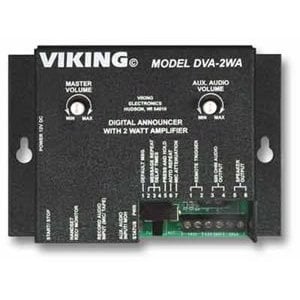 Our Price:
$164.80
You Save $57.68 (35.00%)
---
Manufacturer Part #: VK-DVA-2WA
Lead Time: 1 Day
Size: 5.25" x 3.5" x 1.75"
Features: Digital
Estimated Shipping Cost: $9.03
Digital announcer/recorder. Built in 2 watt amplifier to connect directly to speakers. Designed to provide music and promotion on hold by using playback in a continuous loop or alternating between promotions and an auxiliary music source at 2 second to 30 minute intervals. Any number of multiple messages may be recorded. Announcer comes with four professionally pre-recorded promotions on hold pacifier messages, as well as, power supply and cabling for an easy plug and play installation. Output may be connected directly to loudspeakers with messages repeated in timed intervals or played at the push of a button for museum displays, information booths, point of interest locations, etc.. 7.5 minutes of user recordable memory (select from user recorded messages or four pre-recorded on-hold pacifier messages).

Three playback options: on demand, continuous, and timed intervals. Non-volatile memory (no batteries required). Record from electret mic, carbon handset, tape, CD, PC sound card or any line level device. 600 ohm audio output for high wattage amplifiers. Multiple message capabilities (total number of messages only limited to maximum record time). AGC (Automatic Gain Control) for trouble free recording. Auxiliary audio (MOH) input for between message background music. Remote trigger input for on-demand playback from a remote contact closure. Press and hold play mode. Status LED for record and playback indication. Master and auxiliary input volume controls. I.O. communications port (allows only one DVA-2WA to announce at a time).


Power: 120V AC/12V DC, 500mA adapter provided.

Dimensions: 133mm x 89mm x 44mm (5.25" x 3.5" x 1.75").

Environmental: 0°C to 32°C (32°F to 90°F) with 5[%] to 95[%] non-con.
You May Also Like